A Kenyan preacher living in Minnesota, USA has been chased from the church after he was caught in the act with one of the church members inside the church Hall in his home district in Minnesota.
According to social media reports, the alleged preacher was pants down in act with somebody's wife inside church the Hall, and the two pretends to be doing extra Bible studies and prayers in the church.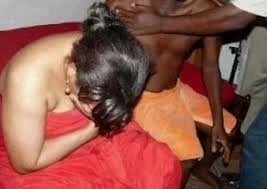 The report indicates the woman's husband who works in Minnesota returned home unannounced, he went to church and caught pastor Peter Mwangi (not the real name), in the church Hall with his wife.
"On Friday morning, I travelled home from Minnesota without alerting my wife. At around 3 pm, I went to church unannounced, and caught the pastor inside church Hall with my partner," said the woman's husband.
Immediately after the disappointing discovery, the aggrieved man informed the church elders about his predicament. The elders warned him against repeating the same mistake in the future.
However, he ordered him to quit from doing any church service until approvals that indeed he has gone through cleansing and purification in accordance with the SDA church doctrines.
.