Inside Bobi Wine's Successfully Launched Manifesto ,Promises Better For Ugandans. NUP Party president Robert Kyagulanyi aka Bobi wine has managed to lay down his 5-year plan under his government once elected into power. NUP manifesto is based on what they have termed as the 'Fist five' and these include;
1) A people-centered governance
2) Equal access to quality health and education services
3) Inclusive economic development
He started off by analyzing a few of the promises in the NRM manifestos for the past years and branded the incumbent President Museveni a lair for not fulfilling his promises to Ugandans over the years.
We give you Quote for Quote of what Bobi Wine Promised
"The greatness of any nation does not lie in the beauty of manifesto or how many beautiful policy documents that have been written but rather in the commitment of leaders to say what they mean and mean what they say" – Robert Kyagulanyi
He Promises better pay for Teachers, Health Workers, and Security Personnel
"Our government will ensure that teachers get a decent salary, accommodation, and a good retirement package. To the health workers, we shall ensure that your work is respected and rewarded by gov't" Kyagulanyi said
"There is no reason as to why our soldiers sleep in dilapidated houses. In most cases, they don't have running water and electricity. They are also Ugandans, they deserve better and once they are better, they will treat Ugandans better "-he added
Bobi repeated that all police officers will have their salaries revised from 1million shillings upwards.
He also promised to reduce maternal mortality by making the delivery experience good for both mother and child.
Bobi says youths will be well taken care of with 5 million employment opportunities for jobs . This he says will be done through investing further in Technology and industrialization.
He says taxes will be reduced and citizens taxed reasonably with tax waivers and subsidies for investors.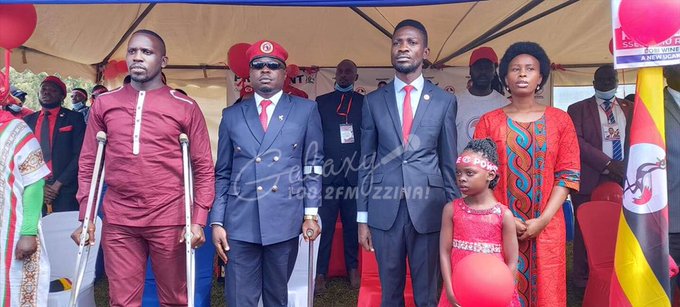 Farmers will benefit from cooperative unions, regional and global markets will be created to make products competitive.
Gender equality will be practiced to have equal opportunities for Women and Men, Boys, and girls.
Sports and Athletics will be prioritized. Pure MPs and Ministers free of corruption
And people in the diaspora will be inspired to come back and invest in Uganda because of an attractive government
Bobi also stressed that it will be treason to try and change the constitution