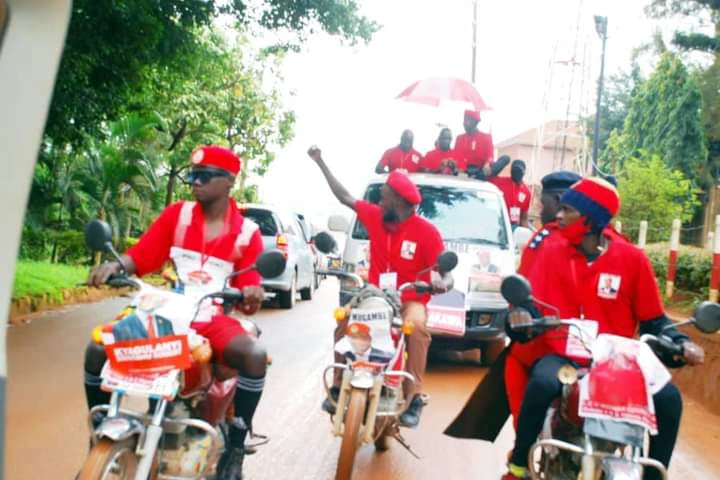 The National Unity Platform party spokesperson, also flag bearer for Nakawa West, Joel Ssenyonyi was over the weekend warmly welcomed by enthusiastic crowds supporters which flocked the streets to have a glimpse at their leader in waiting. Ssenyonyi who last year announced that he would be vying for Member of parliament in Nakawa before it was split under the Museveni gerrymandering system has since enjoyed solid support from the people who look to him as a conduit of the Bobi Wine ideology. "We will vote for Ssenyonyi because we know he will deliver our thoughts and demands to our president Kyagulanyi Ssentamu," says Scovia Nalule, a charcoal vendor in Nakawa. "Joel is a fighter. We have seen him champion several causes from when he was still on TV. Which media personality would drop a well paying job at NTV to come and fight for us? We will pay Joel back by sending him to parliament," she adds.
Ssenyonyi's political bid was green lighted by the Mercy Walukamba vetting committee which deemed him credible and outstanding to hold the party flag in Nakawa West. This however left the DP strongman, Kenneth Paul Kakande unsettled by the verdict and proceeded to challenge it with a petition asserting that he was more grounded than Ssenyonyi, having made numerous attempts to have grip on the constituency but only to face rejects by the voters.
Kenneth Paul Kakande in a statement announced that he would proceed as an independent candidate having failed to agree with the committee criteria to resolve on Joel. "I was asked how much experience I have in the struggle to liberate our country. I have a feeling no one has a better experience than myself. I have a very long trail on this. The second question was education capacity, I have three diplomas, degree, and seven certificates, no one would beat me in that area," Kakande said.